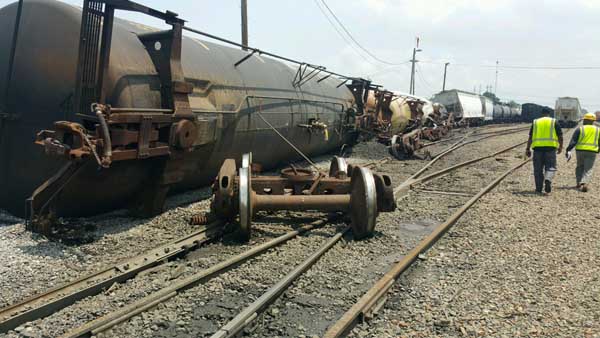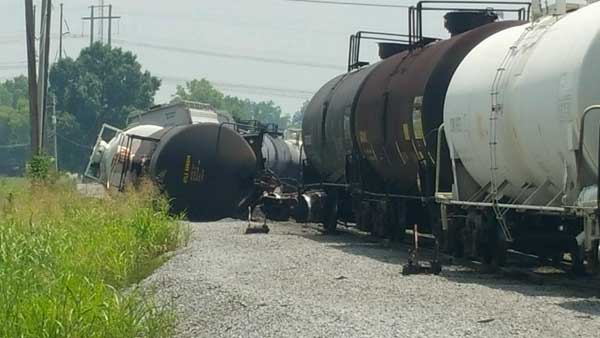 Courtesy: Addis Police Department
ADDIS, LA – On May 19, 2015, Officials with West Baton Rouge Parish reported a mandatory evacuation and shelter in place issued as a precaution after a train derailment in Addis has been lifted. The order was lifted around 1:15 a.m. All residents were allowed to return to their homes. Originally, the evacuation order went into effect at 7 p.m.
Four chemical tankers derailed in Addis around 1:30 p.m. Tuesday. Officials ordered the evacuation of Acadian Crossing and Sunset neighborhoods, as well as areas within 1,000 feet from the derailment site. Officials said the four Union Pacific cars were en route to Livonia. The train was moving slowly at the time of the derailment. Union Pacific officials won't know the cause of the derailment until they move the tankers and inspect the tracks.
Louisiana State Police, Department of Environmental Quality and Union Pacific all responded to the scene to inspect the tankers. The chemicals on the train are sodium hydroxide, propylene oxide, propylene dichloride and nitrogen blanket purge. Sodium hydroxide, also known as lye and caustic soda, is an inorganic compound. Propylene oxide is an organic compound used for the production polyurethane plastics.
Propylene dichloride is an organic compound classified as a chlorocarbon. It is a colorless, flammable liquid with a sweet garlic odor. It is obtained as a byproduct of the production of epichlorohydrin, which is produced on a large scale. In contact with water, epichlorohydrin hydrolyzes to 3-MCPD, a carcinogen found in food. It is also used as a solvent for resins, and paints, and it has found use as an insect fumigant.
The Addis Police Department is investigating the derailment, along with the assistance of the West Baton Rouge Parish Sheriff's Office.
Officials said the evacuation was a precaution, in the event something would happen when crews turned the train cars back upright. Officers with the Addis Police Department went door-to-door to inform residents of the evacuation and to assist.